So, Im not intending to turn this blog into a political forum. That's really not the point. I may be looking for direction on this thing but trust me, politics is not something I like to discuss with strangers. All the same though, I saw some stuff that just made me want to speak out even more on something that's been festering in my brain for some while now. So comment if you like, this is a democratic blog, but don't come here looking for your news. Im not that up-to-date on it myself.
I don't know if you've been following news on the Danish cartoon comics that were in a political mag some time back. The ones depicting Allah as a terrorist? Now, doubtless there was a large amount of insensitivity involved in the production of those drawings:
Doubtless, though, has been the absolute ballslesness (its a word. look it up.)of the liberal media, the political world and the defenders of free speech everywhere in their defense of the Islamic terror... I mean protestors who have been boycotting this production. As fundamental Muslims have learned since 9-11, you don't have to fly planes into buildings and kill thousands of innocent people to prove your point. Hell... that's a bad idea. Even the puniest of governments will find the need to respond to that, whether violently or politically. Rather, if you frame the issue in a light of "media insensitivity," the same nation that will hunt you donw through the deepest caves of Afghanistan will bend over backwards, so far as to even give you the keys to that same skyscraper.
This sensitivity has been seen globally, most recently in the firing of the editor of the Danish paper that printed those caricatures(sp?).
More recent news includes the actions of Burger King, which withdrew its ice cream cones from its British menus because Rashad Akhtar of High Wycombe complained that the creamy swirl shown on the lid looked like the word "Allah" in Arabic script.
Such sensitivity has similarly been seen in the discontinuation, by Dutch film director Albert Ter Heerdt, of his hit multicultural comedy "Shouf Shouf Habibi!" Perhaps his motives for discontinuation should be explored though? When asked WHY he canceled the program (no doubt out of respect for the non-threatening fundamentalist community) he replied "I don't want a knife in my chest."
Um...
Is he being paranoid? Funny enough, this is what happened to the last Dutch film director to make a movie about Islam: Theo van Gogh, on whose "right to dissent" (a democratic right intrinsic to the right of free speech and freedom of the press) all those Hollywood blowhards have been strangely silent about. Perhaps they're just being "sensitive," too?
How about the sensitivity of the increasing numbers of Dutch citizens who "dislike" the growing tension and fear enough to emigrate to New Zealand and Canada? Many people find the Dutch countries to be among the most democratic and diverse nations on the planet. Unfortunately, multi-culturality is becoming a thing of the past. No longer are nations multi-cultural, rather they are becoming uniformly bicultural. One culture being most people: be they black, white, gay, Jewish, Buddhist, Zoroastrian, hippie, nudist, Catholic, Wiccan or atheist, all of whom try as hard as they can to get along with everyone else as best they can in a setting of racial, religious and lifestyle tolerance. The other culture of our bicultural experience has become folks who do not accept the give-and-take, the rough-and-tumble of a diverse and tolerant society, and, when one gently raises the matter of their intolerance, they threaten to kill you, which makes the question somewhat moot.
Now, as a Jewish kid, Im no stranger to the occasional offense against my religion, usually coming from Jewish people anyway (here's looking at you Jewish Press) but I understand A) the position of ignorance that most of these comments come from and B) the right of the public to express these opinions. Personally I find that the anti-defamation league, the protectors of the Jewish name in the press and media, often go to far in their protectiveness, pointing fingers where no nasty commenst were made. I dont believe however that this sort of protest is ever acceptable, free speech or not: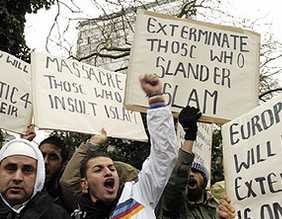 Personally, I think that freedom is a two-way street. You want the freedom to protest? Allow the freedom of rebuttal and criticism. It seems though that freedom is less two-ways and more double-edged. Democracy and freedom everywhere have an uphill battle to fight and when democracy is in trouble thats usually trouble for the jews. G-D help us all.
Thanks to ushi for the pictures and Mark Steyn for many quotes and the original insight.